Infinix Hot 9 X680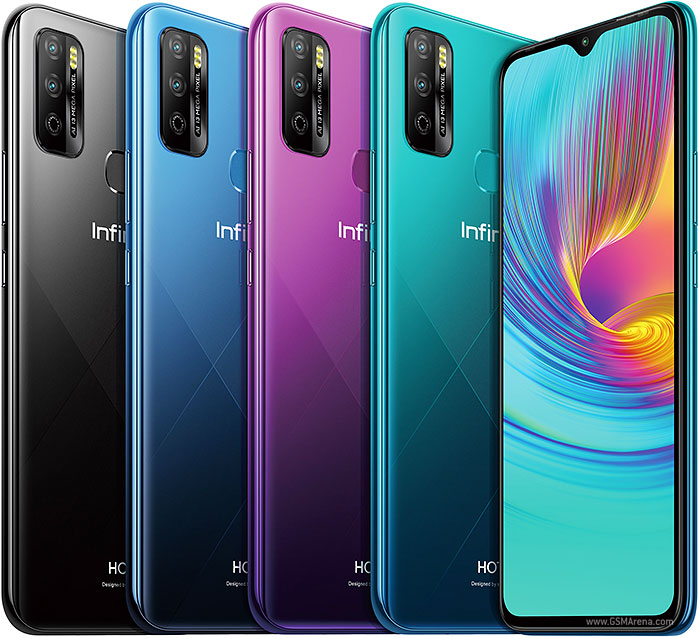 Description
Infinix Hot 9 Play price in Kenya
Infinix Hot 9 Play is an affordable smartphone. The Hot 9 Play by Infinix costs around 12,300 Kenya shillings. Its features include 32GB + 2GB RAM, a Dual 13 MP camera, 6.82 inches IPS LCD, and a massive 6000 mAh battery. It is available in the colors Quetzal Cyan, Midnight Black, Violet, and Ocean wave. This is our highlight review of the phone.
8.9mm slimmer design
This is a feature of Infinix Hot 9 Play that emphasizes its design and its large capacity battery. The argument is, 8.9 mm thickness of a phone would not be enough to fit in a massive 6,000 mAh battery.
Infinix Hot 9 Play is called "Play" to show you how much fun you can have with this phone without worrying about the battery running out. Do you get it?
The phone comes in colors Quetzal Cyan, Midnight Black, Violet, and Ocean wave. It has a Unique Gem Cut Texture Design with a rear-mounted fingerprint scanner. Infinix Hot 8 is another phone you might also want to check out.

Optimized Operating System
The new XOS 6 comes embedded on the latest Android 10. XOS 6 is Infinix's latest skin on Android. It has been built on top of android 10 and comes loaded with better features and is faster, convenient, and more efficient. XOS 6 also brings with it a New Dark Theme feature which not only reduces eyes strain on Hot 9 Play but also ensures a longer battery life.
It is, for this reason, it can also be triggered by turning on the battery save mode. Needful to say is that Infinix Hot 9 Play also has support for face unlock even as it does fingerprint unlock. This was and is a move to ensure the security of your files and folders.
IMMIX 1-10I V Flay Performance
We describe the performance of Infinix Hot 9 Play as acceptable at this price point. The phone comes with 2 GB RAM and an expandable 32GB of internal storage. By the way, something we forgot to mention while telling you about the battery is this. That Hot 9 Play has improved the battery quality has a 60% enhanced battery life-cycle for longer durability. Battery Lab is also present here as with a unique Al power optimization system that improves overall standby time.
Back to it, 32GB of internal storage is alright if you do not store so many files on the phone. Nevertheless, it can be expanded using an SD card up to 256 GB. Be also on the lookout for DTS audio processing technology which is present on the Hot 9 Play.

Infinix Hot 9 Play X680 Display and camera
Infinix Hot 9 Play not only brings a big battery to last longer but also a big 6.82″ IPS LCD screen to immerse yourself in the fun. Of course, it is a 720p display with 1640 x 720 pixels resolution. Infinix calls this a Cinematic display and it has a 20.5:9 full view ratio which is closer to the IMax movie ratio. See the official website here.
Screen
As for the cameras, the main shooter on the back panel is
a 13MP camera and it comes with a QVGA, also known as an Al lens.
Infinix Hot 9 Play has an 8MP selfie shooter. Clearly, the selling point of this phone is its display size and large battery capacity.
Massive 6,000 mAh battery
Just as a reiteration since this is by far the best feature of Infinix Hot 9 Play. It has a massive 6,000 mAh battery that lasts, and lasts, and lasts. Even Infinix Hot 9 (check it out here) only has a 5,000 mAh battery capacity.