Panic Buttons price in Kenya is Ksh 800. Alarms and Panic Buttons can be a valuable addition to any home security system, helping you to get assistance when threatened or endangered. This blog will explain what alarms are, how and where they can be used, and whether you should get one for your home a Panic Buttons.
How to Integrate Panic Buttons into Your Security System
Panic Buttons 2023
Alarm buttons can be added to security systems to increase safety and security. For example, these alarm buttons can integrate into a security system such as surveillance camera systems, Paging systems, and door access control systems. … The Panic Buttons provides rapid emergency notification
Placing panic buttons in strategic areas can help to assure a quick response to emergencies. There is even a mobile personal button that can be carried with you.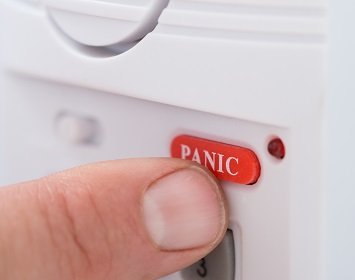 Emergencies occur without warning. It could be a health problem, an active shooter situation, or a criminal attack. The button provides rapid emergency notification. Here's how to add panic buttons to security systems.
What is a Panic Alarm?
A regular panic alarm isn't necessarily the big red button labeled 'PANIC' you see in the movies; the ones that trigger an array of elaborate security measures when pressed.
Most alarms systems use a button as a trigger, notifying appropriate services upon activation. When you or someone on your property feels threatened or is in a dangerous situation, press the button to alert services for help.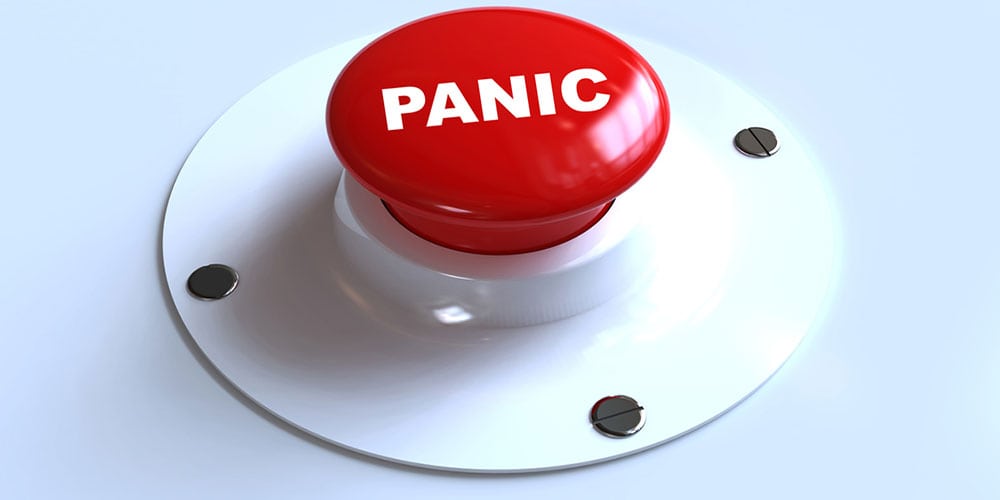 A button may have a silent or audible alarm depending on preference, however most alert some sort of service to the situation.
Depending on your alarm abilities and provider, a panic alarm may alert monitoring services to an issue, which may then contact emergency services on your behalf.
Monitoring services may try to contact you after an alarm activation to check it was not an accidental trigger, or they may look on connected cameras part of your internal security system to assess the situation.
Alarms aren't always activated by a button and can instead be triggered by entering a duress code on a keypad, potentially leading an intruder to believe you are calling off any security services.
There are various types of alarm activation methods to choose from with certain adjustments to suit all applications.
Audible vs Silent Panic Alarm
Whether your alarm is audible or not is often up to you. An audible alarm, much like a standard intruder alarm, will create a loud sound and alert all those in the vicinity to an intrusion when activated.
This can be beneficial in scaring away an intruder and attracting the attention of neighbors for help.
Silent alarms keep the intruder oblivious to any assistance coming, which may keep you and your loved ones safer. Monitoring services are useful for both types, however, they are especially crucial for silent alarms.
If, when alarm activated, the emergency services are dispatched, there is the risk of wasting police time, for example, due to accidental activation.
Having a monitoring service as a middleman helps to ensure security or emergency services only deployed in real emergencies.
Wired vs Wireless Panic Alarms
There are a variety of panic alarms to choose from, including wired and wireless options. Wireless panic buttons best suited to personal use for people who may be mobile around the property and could need assistance anywhere.
In the event of a power outage, wireless systems can still use as they rely on long-lasting batteries for power.
However, wired alarms may deem more reliable as they don't rely on wireless signals. Both alternatives are effective and provide successful security solutions; consider consulting security providers to find a solution that best fits you and your property.
Where do Panic Alarms Used?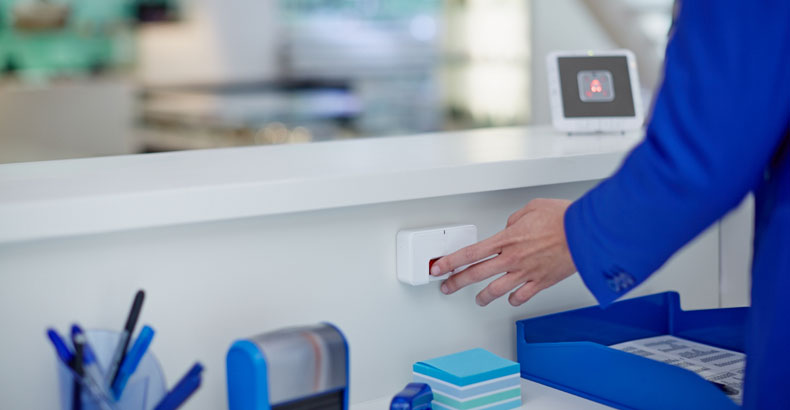 Panic alarm systems are used across a variety of sectors including domestic, commercial, and industrial.
For long workers, panic alarms can act as reassurance and give workers reassurance that help is just a button-press away.
Whether a member of staff is threatened by another person or falls and is unable to get help, a panic button and associated response methods can provide much-needed assistance.
Similarly, customer-facing roles such as cashiers working late hours or receptionists may have access to a panic button to alert security services if they feel threatened or endangered.
Alarm systems are utilized in care homes or for elderly people who live alone. Alarms used in this sense are more likely to take the form of a wearable button that alerts family members or neighbors and not the emergency services.
Therefore, if the user presses the button as they need assistance, either for security or health reasons, someone can come and help.
Domestic panic alarms, as discussed in this blog, are predominantly for security. Homeowners may install a button on bedside tables or perhaps in rooms with valuables for easy access in times of trouble.
A popular place for these buttons is near the front door, that way, if an intruder first rings the doorbell to gain access to the property, the homeowner can alert security services straight away.
Benefits of Panic Buttons 2023
Unlike most other home security system components, isn't for protecting or monitoring your house when you aren't there. It's for protecting you and your loved ones when you are.  Here are some of the good benefits of a panic alarm system:
Peace of Mind Having a hassle-free way of getting assistance quickly in an emergency can be crucial to everyone's safety.
Speed Simply pressing a button to alert to a situation. Will be a fast and effective way of getting help without the need for additional technology, people, or steps in the process.
Reliable Monitoring services ensure that every alert actioned, so whether an accidental press assessed then disregarded. An alert followed by the arrival of the emergency services, you know you being looked after.
Secret If your alarm is silent, you can signal for help without alerting the intruder and potentially escalating a situation.
Holistic An alarm can link to other aspects of home security systems. To ensure a holistic security solution providing the best cover for your property.
Should You Get Panic Buttons for Your Home?
This can be a great addition to any home security system. Providing peace of mind for those at home that they cover in an emergency occurence.
The more components your security system has, the safer you will feel. Knowing your property prepared for intrusion or trouble when you are both home and away.
Consider linking a panic alarm to other security measures around your property, for example activating cameras when the alarm is triggered to give monitoring services a chance to assess the situation.
Be sure to understand the various monitoring services on offer. Alarm options to find one you feel comfortable and secure with.
Places where such alarms may be particularly beneficial include:
Receptionist's desks in building lobbies.

Security stations and checkpoints.

Shipping/receiving areas.

Customer service counters.

Check-out counters and cashier's stations.

Rooms where cash or other valuables received, processed, or stored.

Interview rooms in Human Resources department.

Executive office suites.

Places where confrontations with the public are likely to occur.
Panic Buttons Specifications
| | |
| --- | --- |
| RF Frequencies | 868 MHz / 433MHz / 869 MHz / 426 MHz |
| Power Source | 3V, CR123 Lithium battery x 1 |
| Battery Life | 20+ years* |
| Operating Temperature | -10°C to 45° (14°F to 113°F) |
| Operating Humidity | Up to 85% non-condensing |
| Dimensions | 74mm X 46mm x 22mm |
Conclusion
These buttons integrate with network-attached security and surveillance systems. These panic buttons add to your security and safety by providing immediate notification of emergencies.
They can add to IP cameras, IP intercoms and paging systems, and door access control systems. The mobile button provides increased personal safety in your workplace or out on the road.