Samsung Galaxy A21s 64GB White
It's very clear that the Samsung Galaxy A21s 64GB White is an innovative smartphone. You can connect to the internet and take photos and videos with the four-aperture camera or play mobile games.
With the screen that measures 6,5″, it's designed for those who love larger phones. This phone has a 8 core processor Samsung Exynos 850. The RAM has a total size of 4 GB.
Such performance allows you to run demanding applications or games. For applications or files, the phone has RAM with a size of 64 GB, so you will not have problems with storage space and can handle a collection of games or volume-intensive applications.
This Samsung Galaxy A21s 64GB White mobile phone is powered by a battery with a long battery life thanks to the capacity of 5000 mAh. Another important feature is its connector interface, which uses Jack (3,5mm) and USB-C.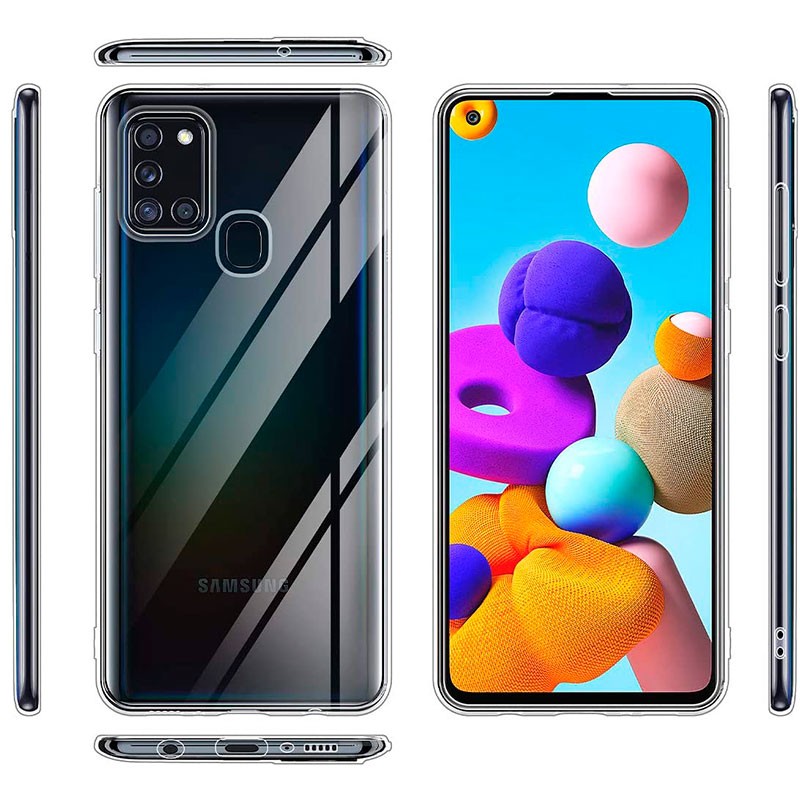 The Samsung Galaxy A21s 64GB White Smartphone Key Features
Samsung Galaxy A21s 64GB White has PLS monitor with a size of 6,5″ with a resolution of 1600 × 720
RAM of 4 GB and Samsung Exynos 850 CPU
Mali G52 graphics accelerator
Internal memory capacity: 64 GB, may be increased with a memory card
Supports SIMs with Hybrid slot
NFC capabilities for data transfer or fast pay
Back-facing camera has a resolution of 48 Mp
4 camera lenses can be found on the back of the phone
Memory card slot for storage expansion
Fingerprint reader for added security
Fast charging capability
Maximum power of wire charging: 15 W
The Display and Camera on this Samsung Galaxy A21s 64GB White Cellphone
The huge 6,5″ display with a round shape HD resolution. It can show things with each detail. It uses PLS technology. For photos, Samsung Galaxy A21s 64GB White smartphone has a four-lens back camera, which offer a resolution of 48 Mp.
It'll serve for the creation of quality photos or videos comparable to camera captures. The practical light emitting diode is a certainty.
For lovers of selfie photographs, this mobile phone has front-facing camera with a resolution of 13 Mp. This phone is equipped with two lenses which are wide-angle and macro lens.
The Samsung Galaxy A21s 64GB White has a Lot of Practical Equipment
This phone takes up to two SIM cards, one instead of a memory card. You may use a microSD card to expand the internal memory.
A fingerprint scanner on the phone body will take care of security on the Samsung Galaxy A21s 64GB White NFC technology for quick synchronization of data is certain to please.
In its specification, you will find the term OTG. This means that you can connect flash drives or an external HDD to your phone, for example.
Of course, the phone is capable of fast connection to internet networks and has sensors necessary for the functioning of practical applications.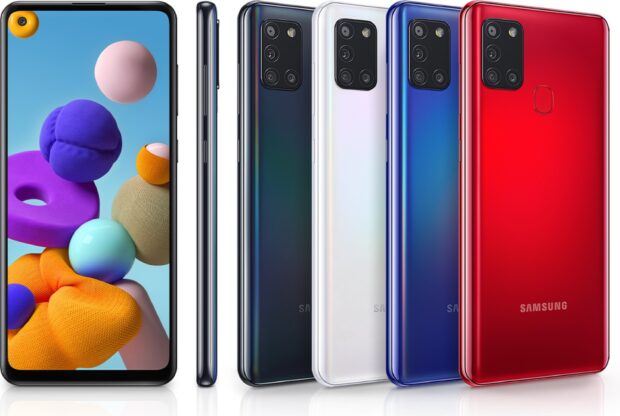 Spacious screen for hours of fun
To start the screen. It measures a generous 6.5 inches and has a remarkably small punch-hole for the 13 megapixel selfie camera.
We are familiar with this Infinity-O Display of the expensive Galaxy models, but Samsung is using it more and more often. So now also in an entry-level model.
A large and barely interrupted screen ensures that you can take content without much distraction. Watching films in this format, for example, is not a punishment at all.
Because image is not possible without good sound, Dolby Atoms has support that we know from the spatial sound. Afraid you'll end up halfway through the movie with a flat battery you don't have to be.
The built-in battery of the A21s has a capacity of 5000 mAh. More than enough for a day's use. Moreover, there is support for fast charging up to 15 Watt. This makes hours of charging a thing of the past.
to purchase click here