Lenovo x220
The ThinkPad X220 Tablet is Lenovo's latest and greatest convertible laptop. As part of Lenovo's recent ThinkPad X series refresh that includes the excellent x220 tablet, this Windows 10 pro tablet features a 12.5-inch display, Wacom digitizer, and Intel's new Sandy Bridge processor. It's also a tough son of a gun, passing eight US military testing specifications for notebook-killers like humidity, shock, sand, and temperature extremes.
One look at the pedigree and specs, and you know the Lenovo ThinkPad X220 Tablet is good but is it good enough to justify a starting price of $1,200 at launch? Read this Lenovo ThinkPad X220 Tablet Review to find out.
BUILD & DESIGN
The X220 Tablet's design does not deviate from the last generation X200 Tablet or the rest of the ThinkPad lineup, stylish Edge series excluded. The X220 Tablet is dressed in all-business black, with a magnesium alloy and plastic build featuring slight texture. The base unit is boxy but features a slight protrusion on top of the display that serves the X220 Tablet's wireless antennas, and the six-cell battery that shipped with my review unit adds a significant bulge to the back, which provides a nice gripping point when carrying the tablet from meeting to meeting while adding a bit of distinction to a very attractive and professional device.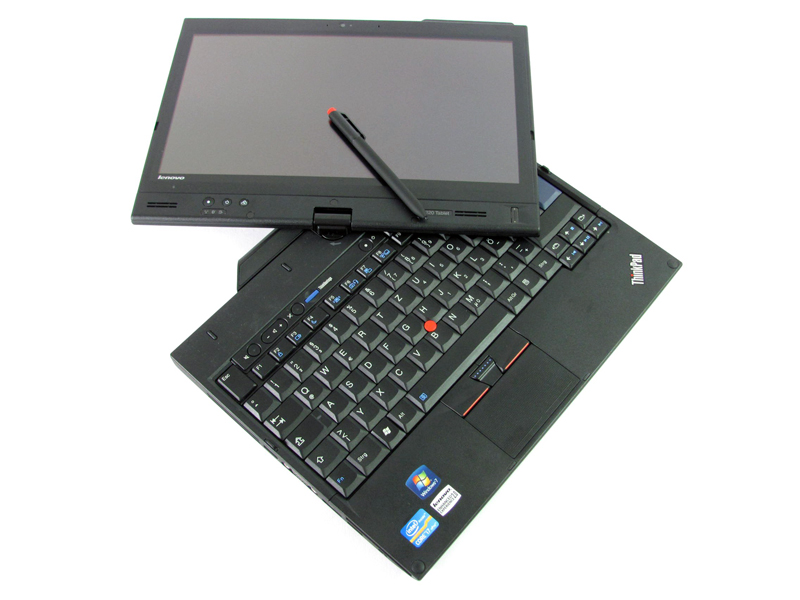 It's also a very tough device, and when held, feels like it was carved from a solid chunk of plastic. There is no noticeable flex or creek when held, and Lenovo claims the X220 Tablet passes many mil-spec tests for humidity, temperature, and other harmful elements. While it's probably not as tough as some of the rugged convertibles we test at TabletPCReview, the X220 Tablet will handle everyday wear-and-tear with no problems.
The screen hinge is particularly tight and well constructed. Unfortunately, it only rotates 180 degrees in one direction, and I accidentally attempted to rotate it in the wrong direction more than once. Thankfully, the X220 Tablet shrugged off the attempt and the hinge showed no sign of strain. The display also opens up a full 180 degrees.
Finally, IT departments and tinkerers will be happy to see Lenovo include easy access to the RAM slots and hard drive. The hard drive latch is only secured by one screw and the RAM slots are hidden directly under the main access panel. The review unit we received shipped with a 4GB chip in one slot while the other was vacant.